Enterprise resource planning systems (ERP) are no longer only used by large corporations.
In the age of digitization and automation of processes, the integration of a B2B ERP system with a B2B platform makes it possible to catch up and overtake the competition. ERP determines the efficiency of almost all workflows in the wholesale company.
Competent and efficient management of resources and assets as well as their automation enable continuous monitoring of the most important business processes. As the company grows it is easy to scale the online system by transferring the capabilities of the platform to a larger work structure. According to FinancesOnline statistics, 53% of companies consider the implementation of ERPs and automation systems to be their priority investments.
But what are the real benefits of ERP? What market opportunities are there in terms of convenience for your company's B2B customers and counterparties? And what about the pitfalls in implementation? Let's examine these important questions.
Special features of B2B ERP systems that are integrated in B2B platforms
Enterprise Resource Planning is software for the management of business processes. It covers different aspects of different areas namely finance, day-to-day operations, supply chains, manufacturing, trading, analytics, reporting and human resource management. ERP makes it possible to manage them centrally from "one window".
B2B systems with integrated ERP offer counterparties an extremely convenient online service and automate almost all of the company's work processes at the same time. This connects the essential business processes with inquiries and ongoing order processing. It's faster, more convenient, and financially viable. The following diagram illustrates the relationships between the main departments and the system users: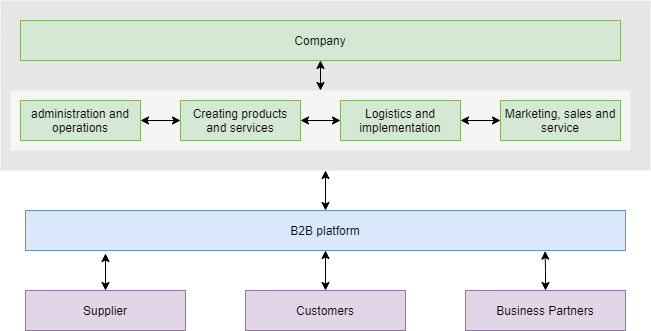 Advantages of the B2B ERP system for modern wholesale companies
The relevant studies show that in addition to the great advantages of digitizing retail and other processes, the introduction of ERP also enables wholesalers to achieve measurable improvements:
Optimization of daily operations – this saves up to 50-70% of the time of managers and other employees, which can be used for more important tasks;
Ability to narrow the range of products by 10-15% by rejecting unprofitable items that are not in demand;
Savings of up to 5% in logistics costs;
In addition, B2B ERP offers the following enhancements:
24/7 access to updated information on inventory and other key parameters;
Sales optimization;
Control over supply chains and logistics;
Effective allocation of resources, including human resources;
The mobile application enables the use of ERP anywhere in the world (internet connection is required);
Automated statistical collection and reporting;
Export and import of data, continuous interaction between ERP and other online systems of the company.
The integration of the ERP system with the B2B marketing platform offers maximum convenience, saves time, money and other resources. This is particularly relevant for subscription access (SaaS).
Advantages of the B2B ERP system for wholesale customers:
Online ordering flexibility. You can do this at any time – the only requirements are internet access and a standard browser. The wholesale business has never been so advanced and fast;
API integration with the B2B platform catalog. This means online access to inventory data and product specifications;
Configurable personal account. Customers always see the latest information on the selected items and their balances. Order control options as well as payment and debt management options are also provided;
Mobile version of the integrated B2B ERP solution. All functions of the ERP and B2B system are accessible in the user-friendly pocket version;
Improved communication with individual customers. The automated recording of data, preferences, orders and complaints as well as the automated analysis and reporting provide the company's employees with comprehensive information on customer behavior. Based on this data, a tailor-made work strategy is developed and a plan for the allocation of bonuses, discounts and other rewards is drawn up.
The integration of the B2B platform with EPR offers wholesale customers and other counterparties the best user experience. This increases loyalty and thus sales.
B2B and ERP integration challenges developers rarely mention
Even when a perfect B2B system that has been developed from scratch is integrated into a standard ERP solution, the entire implementation process can be extremely problematic. The point is that any interaction between different web solutions always brings with it problems with connection, linking, setting up operational and bidirectional data import and export, as well as many other subtleties. The well-known and popular Acumatica ERP system can also cause considerable difficulties when integrating with a company's customized B2B system. In this case, the company may face another month-long and expensive finalization of the solution.
But don't let these challenges get you down and think that such an implementation is a waste of time! Are you looking for a ready-to-use eCommerce and B2B solution with integrated ERP that is tried and tested in practice and used by other companies. That way, you can expect that all modifications have already been implemented and that the system will work like clockwork. In addition, with a SaaS subscription you can introduce an ERP solution for your company at a great price.